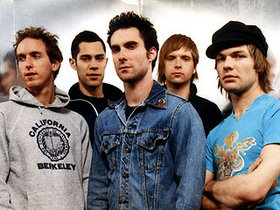 Maroon 5's new album, "It Won't Be Soon Before Long" has a hit "Makes Me Wonder" that jumped 63 spaces to No. 1 on Billboard's Hot 100 Chart, but it seems as if this song is their only hope for success this time around.

2002 launched the start of Maroon 5's career with hits such as "Harder To Breathe," quickly followed by "She Will Be Loved," "Sunday Morning," "Sweetest Goodbye" and of course "This Love." What was it about this album that grasped the attention of America? Perhaps, it was the sex involved in the lyrics or the very idea of writing an entire album about this one girl, Jane. Jane became this metaphore for our ex-girlfriend Susie or ex-boyfriend Jon with each song writing another journey into the tangled hearts of lovers; each a stanza of passion that America fell in love with.

On the contrary, Maroon 5's new album, which took them 5 years to finally come out with, "It Won't Be Soon Before Long" (how ironic) has not produced the same domino effect with the songs. Yes, it is still early to judge, but after listening to the cd, one can see that this cd had different intentions. Even lead singer Adam Levine said

"Yeah, you feel that, because you're like, 'Holy s--t. I wrote this song, and it was so famous, huge, everyone knows it. They sing it at our shows, and all you get on the street is, 'I love that song.' You build this up like it's a big thing. You can't ignore that, but at the same time you have to train yourself to forget about it so you can write a song that's still sincere."

Some of the songs you can actually dance to, and it's a bit more edgy, but will America like this this change or miss the more emotional, sensitive but sexual Maroon 5? Is Maroon 5 set up for another path of success or should we wish them our sweetest goodbye?