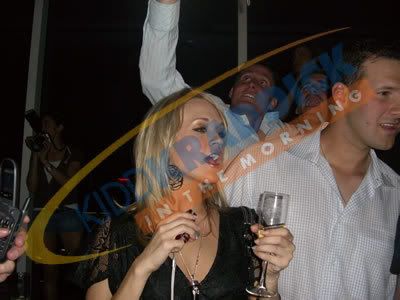 Because Carrie Underwood isn't driving anyone, anywhere. Last night Carrie and Tony Romo lit up the Dallas nightlife. Will champagne drench the Idol starlet's cookie cutter image? Maybe she can get image advice from Sanjaya, he wants to be a triple threat: singer, actor and model.

"It's paparazzi (who) get at you, and fans try to give you hugs and get autographs. I would love to just be able to hug everyone and give autrographs, but you can't. I mean, I'm just Sanjaya from Seattle," said the 17-year-old Idol cast-off said Monday on Live With Regis and Kelly.

"Like, I really - what I want to do is experience the whole entertainment business because, I mean, I'm not just a musician, I'm an entertainer. It was really weird because the governor of New York came up to me and said, 'I'm a fan, I vote'".
"That's fantastic," said Kelly Ripa.
Sanjaya singing and making girls cry on

Ellen

.



Yours Truly, Tim


via[Yahoo!]