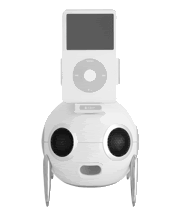 It is no lie that their is not a lack of iPod accesories, as a matter of fact I would go as far as saying that the market is relatively saturated. You have the iCube, iTrip, iKlear... you get the point.

Now their is a new one, the iWoofer. The iWoofer, is not another dog which bobs its head, but as the name implies its a subwoofer. However it does so much more. The iWoofer features a downward-firing subwoofer, tiny titanium drivers and an FM radio. That is enough to differentiate it from the market share. Best of all from what I hear the subwoofer is pretty good.

The iWoofer will be around $120, it is compatible with all iPods and comes in both black and white.

Thanks CrunchGear!